German " fraud " test centers, jabs for all in France: COVID Bulletin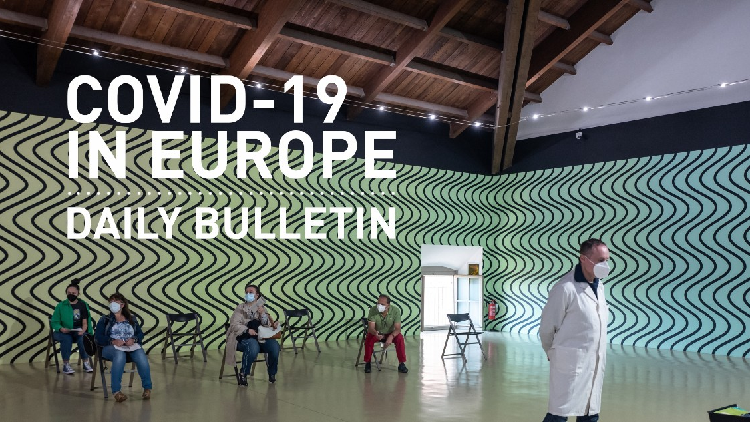 People wait to receive a dose of the vaccine in the halls of the Claudia Comte exhibition at the Museum of Contemporary Art. / AFP / Marco Bertorello
People wait to receive a dose of the vaccine in the halls of the Claudia Comte exhibition at the Museum of Contemporary Art. / AFP / Marco Bertorello
THROUGH EUROPE
• The the entire population of France will be eligible, from Monday, for vaccination against COVID-19.
• Twickenham Stadium in West London has been transformed into The UK's largest COVID-19 vaccination center, with 15,000 jabs available without reservation on bank holidays.
• Fully vaccinated residents in the EU should be exempt from quarantine during his travels inside the bloc, the European Commission urged Monday in a sign of increased confidence in his deployment of jabs.
• Three of Italy's 20 autonomous regions and provinces have been relocated under weak restrictions "Blank Zone " rules Monday following an order from Health Minister Roberto Speranza
• Members of the World Health Organization agree to strengthen the global body at the heart of the pandemic response and provide it with more secure and flexible funding to better cope with future outbreaks.
• Italy faces a "Huge" challenge to turn around its economy, heavily affected by the coronavirus pandemic, said the governor of the Italian Central Bank.
• British Prime Minister Boris Johnson wants the next G7 summit to agree on vaccine passports and launch discussions on a "global treaty" to deal with pandemics.
• Italy extended the entry ban on its territory for people from India, In Bangladesh and Sri Lanka until June 21, as a precaution against the variant of the virus first discovered in India.
• Italy recorded 44 deaths from COVID-19 on Sunday, Lowest daily toll in over seven months.
• The British government plans to vaccinate compulsory for health workers to stop the spread of the virus in hospitals, Vaccines Minister Nadhim Zahawi said.
• German Health Minister Jens Spahn and his counterparts from the 16 federal states will discuss the mechanisms for controlling coronavirus testing centers, following accusations of fraud.
• All those who have been closely involved in the celebrations after the Champions League football final in the city of Porto should watch for symptoms of COVID-19 and avoid close contact with others for the next 14 days, the northern region of Portugal health authority said.
• The Organization for Economic Co-operation and Development has raised its forecast for global gross domestic product (GDP) growth for 2021. Still, it warned that "too many headwinds persist" because there are not enough vaccines in emerging economies, making the world vulnerable to variants of the virus.
• "Very, very few" coronavirus patients in hospital in England have received two vaccines, showing the doses provided "very high" levels of protection, said the head of a British health association.
THROUGH EUROPE
Penelope Liersch in Budapest
Data from Hungary on COVID-19 shows a continuing decline in deaths and cases, with daily deaths at their lowest level since September. Government figures show five people have died from the coronavirus in the past 24 hours, while fewer than 1,000 patients are in hospital.
Data reporting is sometimes late over the weekend, but the number of cases and other indicators have been steadily declining since last month.
The number of first-dose vaccinations is over 5.1 million, and more than 3.6 million people have received a second dose of the COVID-19 vaccine.
Hungary reported on Friday that a number of cases of the variant first identified in India had been discovered in the country. It is understood that one patient has already recovered, while a second was treated in hospital.
Toni Waterman in Brussels
The search for a runaway career soldier who threatened one of Belgium's top virologists is entering its third week. Before Jurgen Conings disappeared on May 18, he left two farewell letters setting out his intentions, including a threat against Marc Van Ranst, who has been a leading spokesperson for the country's restrictions.
Police said Conings was seen near Van Ranst's house before he went missing. Van Ranst and his family have been moved to a safe house and, according to local media, at least a dozen people now have additional police protection. Government officials said on Sunday they had no reason to believe Conings was dead.
Nawied Jabarkhyl in London
The ban on evicting tenants ends today in England, with a charity warning nearly a million people of fear of losing their homes. Due to COVID-19, eviction notice periods have been extended to six months – now they will drop to four.
And Monday marks a public holiday in the UK, with police warning people to avoid areas likely to be overcrowded. Temperatures are expected to reach 24 degrees Celsius in London.
Coronavirus cases have increased in some areas in recent weeks. There have been nearly 22,500 cases in the past seven days, a 27% increase from the previous week.
OF OUR GLOBAL COLLEAGUES
CGTN Europe: Croatian bar sells vaccine-inspired cocktails with a twist
CGTN China: China to support couples with third child in the face of aging population
CGTN America: Asian-American and Pacific Islander Heritage Month
CGTN Africa: Egypt Says Ever Given Captain Fully Responsible for Suez Canal Incident
Register now here to receive the COVID-19 Europe bulletin directly to your inbox.
CGTN Europe has provided in-depth coverage of the history of the novel coronavirus as it unfolds.
Source (s): Reuters, AFP, Xinhua News Agency