RMG shipments to Russia plummet, payments hit hurdles: 150 Bangladeshi exporters watch uncertainty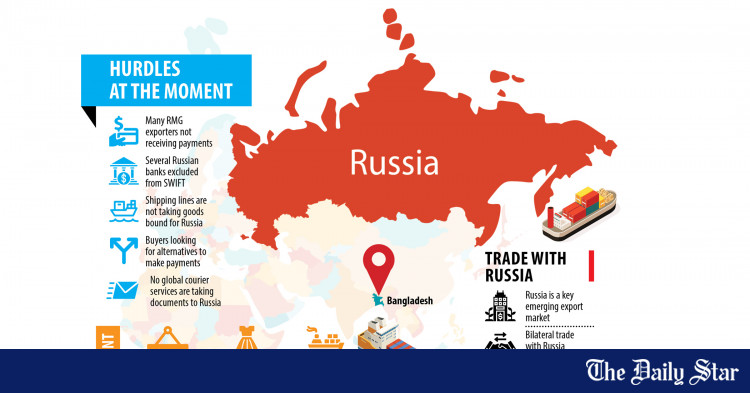 Ready-to-wear shipments from Bangladesh to Russia and payments from buyers are falling day by day as the country's war against Ukraine rages on.
As a result, as many as 150 local garment exporters are spending days in limbo as Bangladesh risks losing a key emerging market if the conflict persists and this would hamper the country's efforts to diversify its exports.
Two-way trade between Bangladesh and Russia is worth over $1 billion and growing.
But many garment suppliers are not receiving export receipts because several Russian banks have been banned from using SWIFT, the global payment messaging network.
It came after the European Union said it was barring seven Russian banks from SWIFT (Society for Worldwide Interbank Financial Telecommunication). The United States recently announced sanctions against four major Russian banks.
Many exporters have either already produced the finished items for Russian buyers or sent the goods to Chattogram Port for shipment. But the shipping companies do not ship the goods because of war-related sanctions.
One of the indirect victims of the war is a clothing exporter based in Gazipur. The owner, who spoke to the Daily Star on condition of anonymity, said his factory received $5 million in orders from Russia in November.
As a result, he shipped men's and women's tops, casual shirts and other woven garments worth $5.80 lakh. However, the export documents were returned to him from Hungary last week due to the SWIFT ban.
Items of clothing worth $3 lakh lie at Chattogram Port as no shipping company is willing to transport them to their destination.
Another 11 lakh pieces of garments are waiting to be produced as per the order. But there is uncertainty because the buyer asks the supplier to delay the shipment.
For the exporter, the Russian-Ukrainian war appeared as a blow. And it came at a time when his business was recovering from the pandemic-induced downturn due to increased order volumes from international retailers and brands as coronavirus cases dwindled.
In order to manufacture the finished products, he has already purchased raw materials and other accessories from China worth $2 million with the money from the back-to-back letters of credit.
So far, $3 million out of a total $5 million order has been badly affected due to the SWIFT ban, he said.
Since he will not receive payments since he could not ship the goods, the bank will turn his loan into forced loans because he loses his ability to repay.
"My Russian buyer is only saying that he is looking for an alternative solution to make the payment. We are also looking forward to the payment," the exporter said.
The businessman shipped $70 million worth of clothing last year and employs more than 2,700 people.
A payment of $2.5 million for a batch of garment exports has become uncertain for Rajiv Chowdhury, also managing director of Young 4 Ever Textile. He, however, received $2 lakh in payments after a lengthy negotiation for another shipment.
"I want to do business with Russia because it is a growing market for Bangladesh. But I will not export to Russia anymore under the current situation," he said.
Another major challenge faced by local providers is that no international courier service companies bring documents to Russia.
DHL, FedEx and United Parcel Service have suspended shipments to Russia amid the country's invasion of Ukraine.
"So shipments and payments become difficult as couriers don't go there," said Mohammad Hatem, executive chairman of the Bangladesh Knitwear Manufacturers and Exporters Association.
He said, however, that there are no difficulties in exporting clothes via third countries.
About 20% of the nearly $600 million in clothing items shipped from Bangladesh goes directly to Russia and the rest via third countries such as Turkey, Poland, Hong Kong and some other European countries.
Bangladesh Bank on Wednesday also advised garment exporters to do business with Russia through third countries and deal with Russian banks that do not face the SWIFT ban, according to Hatem.
Hatem recommended local exporters send scanned documents to buyers until international courier companies resume transport to Russia.
"Russian buyers must accept scanned documents from shipments so that business between the two countries can continue."
Some Russian buyers are asking to use the Chinese alternative to SWIFT, he said. "If it starts working, the export might not be affected."
Another good sign is that local exporters send goods to Russia through the ports of Finland, Hamburg and Belarus. "Sea routes are still open to local exporters," Hatem said.
The Bangladesh Garment Manufacturers and Exporters Association has set up an office to assist all types of garment exporters to inform it of orders received, fulfilled and unpaid payments.
In the July-January period of the current fiscal year, suppliers sent garments worth $415.47 million to Russia, registering a 36.47% year-on-year growth, data shows. of the Export Promotion Bureau.
In the last financial year, Bangladesh exported garments worth $593.66 million. Of this amount, $373.25 million was for knitted goods and $220.41 million for woven items.