Virus outbreak and restrictions throw cloud over European economy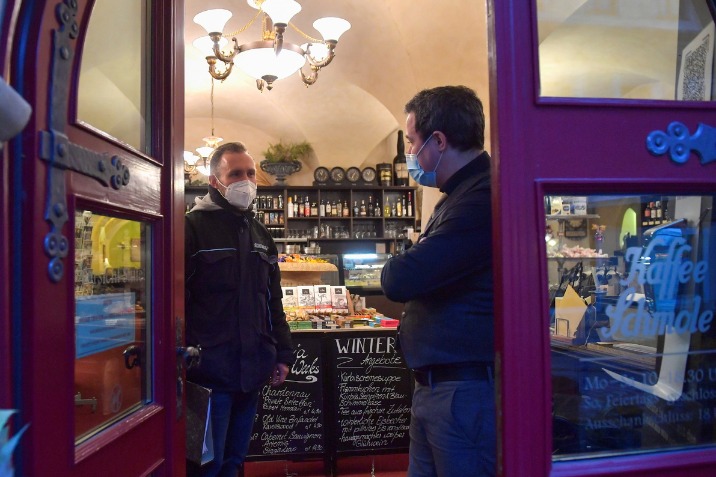 A spike in COVID-19 cases across Europe that has triggered lockdowns and work-from-home advice in some places threatens to sink the continent's economy, experts have said.
Andrew Kenningham, of Capital Economics, told The Telegraph newspaper that the 19-country euro area, which uses the euro currency, could stagnate due to the virus-related spike in energy prices and the halt in the German economy reportedly following new virus restrictions.
High energy prices have already pushed up the cost of living in Europe and triggered the highest inflation rate in the eurozone since 2008.
"If next week the number of cases increases really rapidly, we might see restrictions," Kenningham said as Germany recorded a record 66,884 COVID-19 cases on Wednesday.
As the country's death toll exceeds the psychological threshold of 100,000 this week, Salomon Feidler, an economist at Berenberg, told the Telegraph that Germany, which is responsible for about a third of the area's economic output euro, is also grappling with the supply chain. problems attributed to the virus.
He said the high infection rates "are likely to hamper growth in the short term, due to further restrictions."
Feidler said the pandemic restrictions in Germany have, so far, mainly targeted unvaccinated people, but "even vaccinated people are more reluctant to go out and spend."
The Munich-based Institute for Economic Research, known as Ifo, said in its latest survey of 9,000 companies that German business confidence is at its lowest for seven months, over fears that the latest surge in the pandemic results in stagnant restrictions. the economy.
"Supply bottlenecks and the fourth wave of the coronavirus challenge German businesses," The Guardian newspaper said, citing Ifo.
The BBC noted that France is also experiencing a sharp increase in COVID-19 cases and is on the verge of reintroducing compulsory mask wearing and other restrictions.
Small European economies are contributing to Europe's woes, with Austria returning to a full lockdown this week and Switzerland, which has seen a 50% increase in COVID-19 cases, urging people to work from home if possible .
The Czech Republic, Hungary and Slovakia also reported a record number of new coronavirus cases this week.
The sad news brought the euro to its lowest level against the dollar in over a year.
Bloomberg said Thursday that Germany's stagnation may have already started, as its economy grew less in the third quarter than initially expected, due to a sharp drop in capital spending.
Bloomberg said that Germany's total production rose 1.7% instead of the 1.8% forecast by the German statistics office at the end of October.
The country's central bank, the Bundesbank, added that new data on the country's inflation rate to be released on Monday could show a November reading of just under 6%.